Yesterday, I heard this wonderful song from an upcoming movie – Dear Zindagi.
It resonated quickly and I listened to it more than once in the first 30 minutes of me knowing about such a song.
Then I listened to it once more.
And more.
Within just about a couple of hours, I listened to this song 5-6 times.
Then I plunged myself into the work. While I was doing the work, I enjoyed my being little more than usual. For no apparent reasons.
Then I reached home.
The TV was on.
I don't know why but I asked to record the program being watched.
Then I streamed this Love You, Zindagi song from my phone's YouTube to the TV.
While the dinner was being prepared, I watched it three times more.
Then we took dinner.
While having dinner, I watched it once more.
Then I went to my home office. And started doing some research about my upcoming book – on building a winning career (and life).
While researching, I listened to the song again.
And once more.
Then I went to bed.
For the past few months, I've developed a habit of reviewing all good things that have happened during the day and being thankful to God. This simple gratitude exercise contributes to producing many good things including the good night's sleep.
I was thinking about the activities and accomplishments of the day. Many good things happened:
Taught two people on content writing and project management respectively;
Led the marketing plan creation process for a Lifestyle App;
Solved two problems of two different friends;
Finalized the design of two pages of Yories' upcoming website;
Consulted a client on the next step of his app launch;
Did an hour of quality research on my upcoming book on social media …
While all of these was happening, I keep listening to this Love you, Zindagi song. Things like this do not happen to me usually. It was a bit different experience.
I was wondering why I enjoyed this song so much… soon, I realized that this song has a language. It's the language of being unconventional. It's the language of life. The language that all of us wants to use but only a few of us practice.
It is the language that radiates hope. ?
It is the language that radiates joy. ?
It is the language that radiates possibilities.✍
It is the language that radiates sunshine. ☀️
It is the language that radiates love. ❤️
And the lyrics of the song – they are so apt. And lovely.
And something that served as the basis of the following poem that penned itself soon after the song was internalized without any conscious effort from my side:
I love you, life

I do what I like
I don't do what I don't

I welcome the smiles
I fire the pains

I love you, life
Oh life, hold my hands all the times
even though I try to walk away sometimes

I know I'm a bit volatile
And you are a bit strange
But we go along well
as we make a great pair

I welcome the smiles
I fire the pains

I Love you, life!
This experience reminded me of Geet from Jab We Met. Geet is one of the most sparkling characters Indian Cinema has ever produced.
Also, I found the picturization of the song wonderful. It's crazy. It's weird. It's perfectly imperfect.
Oh, the scenes where SRK plays kabaddi with the ocean and Alia plays with the mud. Insanely imperfect!
Any so-called "sane" person would not do things like this but that's the beauty of these scenes and intelligence of the director.
And the actors? Loved them both. The life on Alia's face and the calm intensity of SRK's act are just awesome!
Those tiny acts are full of life. Uncanny. Weird. Off. But I enjoyed them. If you want to live an intense life, I think, weirdness is an essential tool.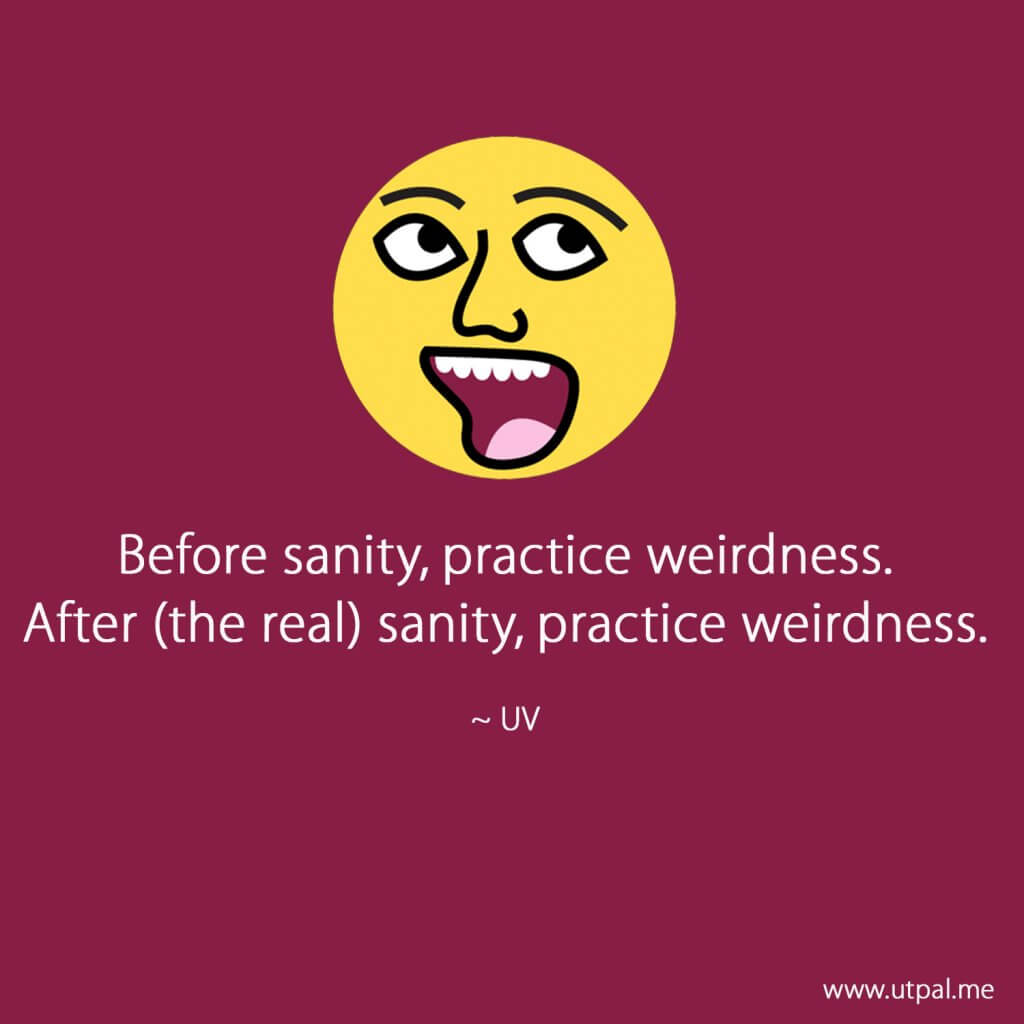 Then I went to sleep. It was one of the most tranquil sleep I ever experienced in recent days.
And today has begun. With all good vibes. And I headed to work just after writing this piece in the morning.
And this is lunch time and I've heard this song 4 more times!
PS: Zindagi = Life. This is for people who can't interpret Hindi words. 🙂