When you want something, all the universe conspires in helping you to achieve it! ~ Paulo Coelho, The Alchemist
Similarly, When you want to learn something, all the life experiences conspire in helping you to learn.
You learn from even a commercial movie you watch. More about it in a minute but first, a little background:
Enter the late eighties and early nineties when I was a teenager 
I was a die-hard fan of this game called 'Cricket'. Cricket was a major part of my life's happiness. I used to practice a lot to bowl well and bat well with my friends, schoolmates, and cousins. For hours. Relentlessly.  Kapil Dev was my favorite cricketer and I was always ready to watch his matches at any cost.
I used to collect Kapil Dev's photographs, I remembered almost all his test and ODI scores and I was all guns to be like him in life – an allrounder.
But Kapil Dev got retired in 1994. I thought I will miss him so much and I did not want to stay with that feeling so I stopped watching cricket completely after Kapil Dev's retirement. And I stopped playing cricket too. I've always been an extremist.
I would later read The Seven Habits of Highly Effective People book from Stephen Covey and learn that if you make any person your center of attention then sooner or later, unhappiness will find its way within you. The better life is designed based on principles and not any single person but I was almost a decade early to understand all this in 1994.
Though I was mad after Kapil Dev in my cricket-loving days, there were a select few cricketers whom I used to admire for what they do on the ground. Azhar was one of them. A great fielder, good batsman and the captain of the Indian Cricket Team.
But once my interest in cricket was replaced by other things that mattered to me, none of them mattered much. Fast forward to 22 years and then came the movie – Azhar.
I was not sure if I'd watch it but a couple of days back I was talking to a teammate who had watched it and recommended.
So I watched it.
I liked the movie. I'm not sure if the happenings in the movie are based on facts because at the beginning of the movie they showed a big disclaimer stating that the whole movie is a work of fiction based on Azhar's life and may not be the reality.
To me, it does not matter if anything shown in the movie was fact or not. What matters to me is to be able to learn – out of any experience that I come across. And here are a few take-home points for me from the movie – Azhar:
5 Lessons Learned from the Movie: Azhar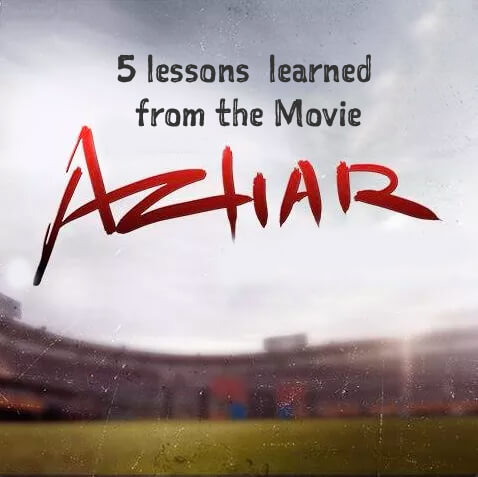 1. Your work should speak, not just your words
Consider this dialogue from the movie:
"Tere ko jawab bolke nahi, khel ke dena. Tu Muh se bolega toh kuch hi loga sunenge, balla bolega, toh poori duniya ko sun na padenga."
I'm translating it below for readers who cannot understand Hindi:
You've to give an answer with your play and not your words. If you speak, then only a few will understand, but if your bat speaks, then the whole world will have to listen.
In the same lines, consider this quote from John F. Kennedy:
"What You Do Speaks So Loudly that I Cannot Hear What You Say."
Lesson: Be the master of your craft and make your work speak for you.
2. Be interesting or people will find reasons to move on
The character 'Naureen' portrays the role of a good, positive and supportive wife. She was beautiful and almost a perfect companion.
Her life was revolved around Azhar. She was happy if Azhar was happy. She didn't seem to have any life on her own. Azhar was her world.
Still, Azhar left her for another woman – Sangeeta.
Ambitious (and capable) people often look forward to the interesting next. Naureen wanted the status quo to be maintained so Azhar could not cope up with her.
Here the question is not about morality. Not about being right or wrong. The question is about making something work.
Despite her devotion and attention to Azhar, Naureen couldn't make her life work with Azhar.
Lesson: Be interesting. Passive devotion is not enough.
3. People often do opposite to what they superficially believe or say
The character 'Sangeeta', Azhar's second wife, said that she would never hook up with a Cricketer.
If a cricketer is a married man, it would be an even BIGGER NO.
But she did exactly the opposite. When love happens, all the reasons go away.
If there are still reasons or considerations left, know that it is not Love.
So even after knowing all Azhar's limitations and her dislikes, she went ahead and decided to marry him.
Lesson: In love, you become unreasonable. If you think you love someone but have any reasons left, you really don't love her (or him).
Consider the following two statements to understand the power of true love:
"I love you, but [put any reason here]."
"[Put any reason here], but I love you."
Same words but totally different meaning.
See the difference yourself. Here, 'you' may not be just any other human being but anything that can be loved: object, subject or anything!
4. You don't need to be smart to win the game of court (or life)
The character 'Advocate Reddy' lacked confidence and was certainly not a smart or the most qualified Advocate but his heart was with his friend, Azhar.
Advocate Reddy did everything possible to make his friend, Azhar Win the case. Sure, Reddy was not smart but he had substance and he was detail oriented. These things matter even more than just a superficial smartness.
Abraham Lincoln had said,
"Character is like a tree and reputation its shadow. The shadow is what we think it is and the tree is the real thing."
If we look at smartness from Lincoln's perspective, it will turn out like this:
"Substance is like tree and smartness its shadow. The smartness is what we think it is and the substance is the real thing!"
Lesson: Substance matters more than smartness. Over the long run, smartness matters only when backed by substance.
5. You are a fighter if you decide to be one. And all fighters are emotional.
The character 'Azhar' is full of substance and charm. He lets his work speak, does what he feels right – beyond the conceived perceptions of what may be right or wrong – and plays his own game. He took money from the bookies. Even after he was married, he fell in love with another woman and got married to her. The character had always listened to his heart and his own notion of righteous thing.
He selected his friend as a lawyer even though he had enough money to hire a top-notch and expensive lawyer but he would hire someone whom he can trust and who believed in him.
Sure, he gave up to his feeling of what he called love (Naureen) and went with another woman (Sangeeta) but since his heart was pure, his complete family, including his first wife and children, stayed beside him in the end.
6. Bonus Point: Live the Life On Your Terms (and you won't have any regrets!)
People who always listen to their heart first are not perfect and often act impulsively.
They are ambitious. They rebel. They do what they feel is right. They are interesting and charming.
Because of such traits, they are believed differently (wrongly) and often dragged into allegations of different kinds. But to them, those things don't matter.
They live life on their terms – the way they want to live. Without any boundaries. Without paying much attention to looking good or bad. Without any regrets.
Sure, such people may not always make a good fit for the society's perceived norms – such as husband or wife, a cricketer or an obedient employee, but they have no deathbed regrets.
You can love them or you can hate them. Only one thing you cannot do: you cannot ignore them!