You are clear about the primary aim of your life.
You have set the SMART goals.
You have a compelling list of 100 unique reasons why you should reach your set goal.
You have a list of 3 or more SMART sub-goals that you must achieve to hit the goal you have set.
Still, there is a strong possibility that you will miss the goal. What could that be?
Lack of accountability.
We, humans, have a wonderful capability to find out reasons why something cannot be done. Valid, acceptable, and compelling reasons why something is not possible.
Those reasons are caused by what we know as "resistance."
Resistance is one of the most powerful negative forces you experience in your entire lifetime.
Resistance is your biggest enemy. Resistance aims to kill. Resistance aims to kill the possibility of taking action.
Oh … damn resistance.
Sometimes the resistance wears the mask of reason. Sometimes it wears the mask of logic. Sometimes it wears the mask of reality. What's more, sometimes it wears the mask of yourself … and your other (vested!) interests.
And, you do not even know that you have to fight with your own self, who is now representative of your enemy that stays within you … resistance!
Reflect on the below thought from Pressfield's masterpiece book called  Do The Work on resistance:
"Resistance is the Dragon; you are the Knight" ~ Steven Pressfield
And you know what? You slay the dragon once, and he will never have power over you again.
Public accountability is one such powerful tool that can help you to slay the dragon.
When you have a project to be delivered, a business to start, or a life change to make, your inner dragon will tell you all the reasons why you should not be doing that thing.
This issue is caused by the design of humans. This is how we are. Let us accept it so we can do something about it.
By making your goals public and creating situations where you are held accountable, you tell your inner dragon to shut its fire-spitting mouth.
For example, if you make a public announcement of your personal goal in your community, on your public Facebook profile, or on your personal blog, it is an example of applying public accountability in your life.
Now, there are private goals that you may not want to share publicly. What to do? How to get the benefits of public accountability without making your goals public?
By having one or more private accountability partners.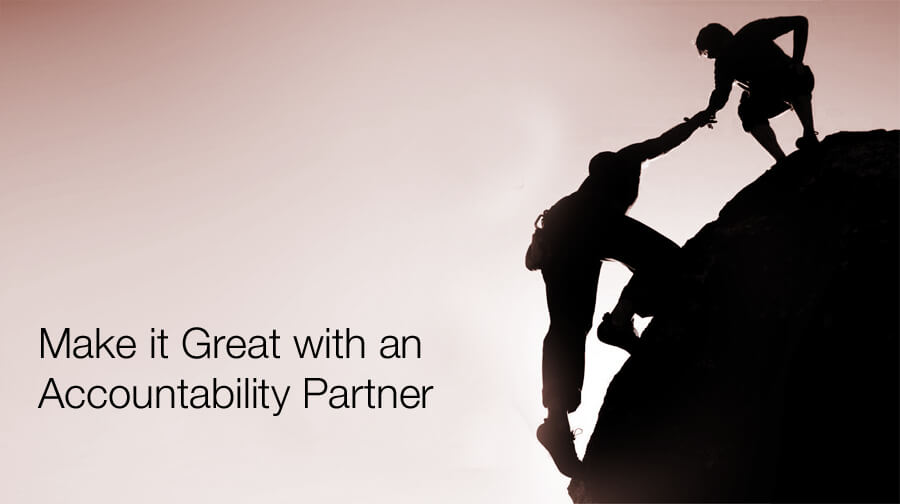 Here are some of the traits that you would look for in your private accountability partners:
a) Accessibility: They should be accessible to you on a regular basis. It is great if your accountability partner is within the same family, same office premises, or the same city where you can easily access them.
b) Choice: They should accept themselves as their accountability partner. Someone might have assigned or insisted on an accountability partner to you, but they should choose themselves as your accountability partner nonetheless.
c) Relevance: They should be able to relate to your goals somehow. For example, if your goal is to lose 6 kg weight in 60 days and you pick a foodie accountability partner who thinks it is wasteful thinking, it won't help.
d) Respect: You should be able to respect your accountability partner, and s/he should be able to respect you. You may have a difference of opinions, but if they don't respect who you are, it does not work.
It does not matter what job title or experience, or gender your accountability partner has; it matters that your accountability partner will make you accountable such that you achieve your goal.
Your accountability partner could be your friend, colleague, boss, spouse, or even a social media contact you made online. Whosoever s/he is, if s/he follows the following 100 rules for being an accountability partner, it will work:
100 Rules for Being an Effective Accountability Partner
Rule #1:
An accountability partner will make sure that her partner achieves the set goal.
The remaining 99 rules don't matter!
FAQs About Accountability Partner
Q1: Why accountability partner?
A1: Because you are smart. You know how to lie to yourself. Your accountability partner won't allow you to do that!
Q2: Can my spouse or colleague be my accountability partner?
A2: Yes, they can.
Q3: What is one thing the accountability partner should do on a regular basis?
A3: One thing that the accountability partner does on a regular basis is to connect her partner with the possible outcome of the goal once achieved. Having said that, there are no set rules or steps that work for everyone; still, the accountability partner will make her partner realize that you are accountable to take actions such that you can reach the goal.
Q4: What ONE thing that accountability partner must not do?
A4: Accountability partner does not disempower her partner intentionally or unintentionally. Sure, during the process, she might learn that a particular technique might not work – so she can communicate the same but constructively. In a way, that empowers her partner to achieve the goal, not to keep away from the goal based on the discovered knowledge that a particular technique might not work.
Q5: What is one understanding that an accountability partner would practice from?
A5: An accountability partner would practice relational accountability. She'd understand that accountability is the willingness to give an account to someone else of your actions and motives. It is a give and takes relationship where the purpose is to empower each other to achieve the goal.
In conclusion:
Accountability Partners can help you reach your goals sooner than later and help you build a more strengthened version of yourself.
Make it great with an accountability partner.